Llevo ya bastante tiempo (más de 2 años) trabajando en mi próximo proyecto llamado "Disparadores de Ideas". Es un libro que sirve para explotar la creatividad, ya que creo totalmente que si le dedicas así sea 10 minutos al día a disparar ideas al aire, salen cosas increíbles que seguramente llegan a materializarse en proyectos brutales.
Tenía ya visualizado cual sería la portada de mi libro. Quería realizar una fotografía que diera la analogía de un cerebro de muchos colores. Como soy adicto a cualquier combinación de color posible, comencé a experimentar con la fotografía para ver si podía lograr la idea que tenía en mente.
Fue así como nació la imagen de esta fotografía, realizada con una mezcla de distintos colores, tintas y densidades de líquidos.
………….
I have been working for a long time (more than 2 years) on my next project called "Idea Triggers". It is a book that focuses on boosting our creativity. I am a true believer that if you dedicate at least 10 minutes a day to trigger ideas, awesome things come to life that surely become future success projects.
I had already visualized what the cover of this book would be. I wanted to make a photograph that gave the analogy of a multi colored brain. Since I'm addicted to any color combination, I began experimenting with photography to see if I could achieve the idea inside my head.
This is how the image of this photograph was born. It was made with a mixture of different colors, ink and liquid densities.
Donde perfectamente pude captar lo que buscaba. La analogía de un cerebro y una explosión de colores que estallaba a la vista.
Ahí es donde quedé impactado con el resultado y decidí meterme de lleno en este proyecto que quiero compartirles llamado "Nubes Crómaticas".
Sigo experimentando todos los días tratando de capturar distintas formas y combinaciones de colores para así crear imágenes impactantes.
Es todo un proceso que requiere de mucha paciencia y tiempo para preparar la foto y tomarla en el momento preciso que aparece una forma y una mezcla de colores que llamen la atención.
………….
I really captured perfectly what I was looking for. The analogy of a brain and a color explosion that really caught my attention.
That's where I was stoked by the result and decided to get involved in this project called "Chromatic Clouds" that continues to challenge my creativity to capture all the possible shapes within the lens of my camera.
It is a process that requires a lot of patience and time to prepare the photo and take it at the precise moment that appears a new form with a mixture of colors that attracts my attention.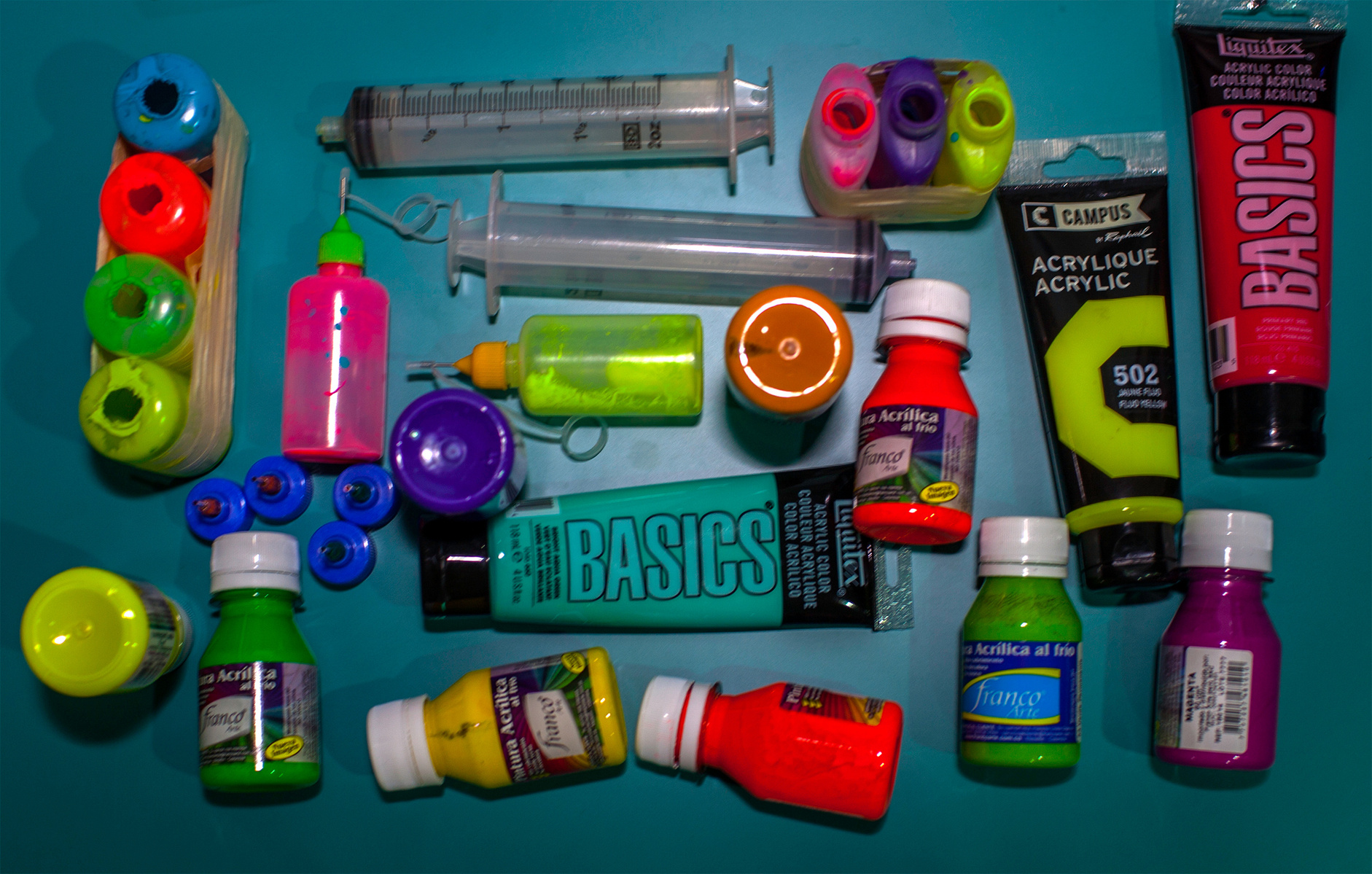 La preparación para la toma de una foto (mezcla de colores y montaje) tarde entre 15 a 20 minutos. Todo este tiempo es el mínimo necesario para poder capturar el momento preciso que estoy buscando.
Es un largo proceso que cada vez que lo hago trae diferentes resultados.
Y es así como nació una idea…. un proyecto.
………….
The photograph preparation (color mixing and setting) takes between 15 to 20 minutes. All this time is the minimum necessary to be able to capture the precise moment that I'm looking for.
It is a long process that every time I do it brings totally different results.
And that is how an idea… a project was born.